Website Credits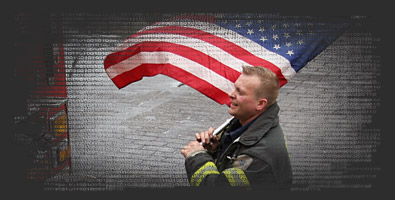 .
---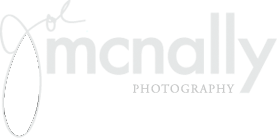 Thanks to internationally acclaimed photographer Joe McNally, for photographing A Postcard for FDNY featuring our two new rigs, Ladder 10 and Engine 10 with the World Trade Center in the background.
He has shot cover stories for TIME, Newsweek, Fortune, New York, Entertainment Weekly, The New York Times Sunday Magazine, and Men's Journal. He has been at various times in his career a contract photographer for Sports Illustrated, a staff photographer at LIFE, and contributor to the National Geographic, shooting numerous cover stories for those publications.
In the aftermath of 9/11, McNally, using the world's only life-sized Polaroid camera, created a project called "Faces of Ground Zero," which traveled through 2002, became a book, and helped generate approximately $2 million for the relief effort.
---

Scott Lobaido hails from New York. With vivid nightmares of 9-11, and a love of his country that runs to his core, he's been inspired to put his passion for patriotism into paint. "I adore my freedom, and there's men and women that made the ultimate sacrifice, you know, stepping up to the plate and I take it personally." Thanks to Scott for the inspirational Flag painting on the Ten House Doors.
---
Also thanks to Michael Martinelli of FDNYtrucks.com for use of his Ladder 10 photos. On this site you will find the most complete archive of apparatus photos of the New York City Fire Department.
---

Thanks to Leesa for many of the great photos on this site, including the South Street Sea Port training photos in the "2005 Photos" and the Ten House Memorial "Dedication Photos." She also provided the flag mural photo of Ladder 10 used in the original website logo. If pictures are needed, she is the "go to girl."
---
A very special thanks goes to Ed Culhane, Post-Crescent staff writer, and Mike De Sisti, Post-Crescent staff photographer and the Appleton Post Crescent for several of the photos in the "9-11 Photos" album on the 9-11 Chronicles pages.
---
Thanks to FF Christopher Landano of the FDNY Photo Unit for the FDNY 9-11 Memorial Wall Dedication photos and to Rob McDermott of the FDNY Photo Unit for the photos of the Billy Ray Cyrus and Miley Cyrus visit to the Ten House.
---
And thanks to PELCO, Clovis, California, for providing the photos of the Ladder 10 flag that is on display in PELCO's California Memorial Museum. Pelco is a designer, developer, and manufacturer of video security systems and supporting equipment.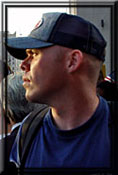 ---
Thanks to Pete Burke for sharing his photos of the World Trade Center site and of the Ten House after 9/11. Be sure and visit his Photos Albums. Also specifically check his "View From Ground Zero" Photos. These are very inspiring. A few of these photos are included in our album "9-11 Photos" including Pete's awesome black and white photo of Engine 10 reflecting on the World Trade Center walkway. They were both destroyed on 9/11/01
---
Thanks to Florian Kollmann from Traun, Austria for his photo of Engine 10 taken May 2004 in our "2004 Photos" album. For a direct link to his US visit to New York, visit FDNY, NYPD, EMS Photos or visit the Traun Fire Department. Site is in English.
Also thanks to Antoine from France for his photo of Engine 10 and Ladder 10 (Truck) taken June 27, 2001 on Liberty Street in front of the Ten House. The picture is in the "9-11 Photos" album. We lost both the Engine and the Truck on 9/11.
---
Other Photographers who have contributed to this website. Thanks
Stacy L. Howell - Stacy's Photo Galleries
Anthony Baldini
Britton W. Crosby - CapeCodFD.com
Many Ten House members and friends.
---
Thanks to Sergeant First Class Kevin Kirchoffer, U. S. Army, Texas for his poems in the 9/11 Chronicles sections.
From Sergeant First Class Kevin Kirchoffer: "I've been in the Army 19 1/2 years. We have helped so many other countries and have been all over the world, but the reason I wrote the poems is to honor the people that lost their lives on 9/11/2001. In the military for so long, when something like this happens to us at home, military personnel really take it personal because we are now doing what we do for the people of our country and our freedom. Military personnel took it very personal when 9/11 happened. I have lost many friends over in Iraq that worked for me and I still talk to their parents and its funny how none of them regret their loved ones joining or losing their lives for the freedom of all."
---

About the website and how it came to be.
---
Website Technical Information and Credits (for the techie's among us):
Photo Albums generated by:
Graphics from:
The Guest Book was provided by PHP Junkyard.
Template for this website is by Cotton Fruits "One Website For All Devices" available at Code Canyon. Template was modified by the web guy for the Ten House.
Website is designed using Microsoft Expressions Web. If the W3C link appears at the bottom of the page, that page meets the current W3C code. The site uses a variable design allowing the site to expand to fit all screen resolutions from mobile devices to large screens. It has been tested in the latest versions of Internet Explorer, Firefox, Netscape, Safari, & Opera Browsers. We welcome comments & suggestions on any technical issues with the site.
---
If you missed any of our holiday or special themes, or to get a sneak preview of upcoming themes, check them out:
New Years, Martin Luther King, Valentine Day, Washington's Birthday, St. Patrick's Day, Easter, Mother's Day, Memorial Day, Flag Day, Father's Day, July 4th, Labor Day, 9-11, Halloween, Veterans Day, Thanksgiving, Christmas