Reprinted from:

Your Connection to Grant Country, Indiana
Copyright © 2005, Chronicle-Tribune. All rights reserved.
Indiana Connection
Van Buren, Indiana Man Designs Website for 9/11 Firehouse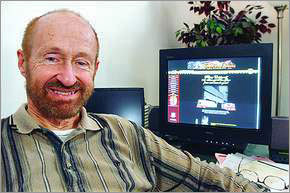 Photo by: Aaron Pennock
Online memorial remembers six killed in attacks
By: Katie Albright, Chronicle-Tribune
Jerry Palmer brings a little touch of Indiana to New York every time Internet surfers Google their way toward FDNY Engine Company 10, the firefighter station at the front line of the Sept. 11, 2001, attacks.
The firehouse is located next to the ground zero site. Six firefighters from the house died in the attack that killed thousands and changed the way Americans look at the world and at first responders.
Palmer, a Van Buren resident, firefighting buff and Web designer in his spare time, decided to dedicate some of his time to honoring not only the fallen firefighters but also others who stood ready in the "10 House" that day, via the World Wide Web.
"I started the Web site in 2002, after I took some photos of the house and their new engine (with an American flag mural painted on its side)," he said. "I was just reading some really wonderful articles about the house, and I wanted to do something for them. I wrote letters to the two fire captains telling them about the site, and I did a memorial motorcycle ride to New York in 2004 to meet the men."
Palmer said he told the firefighters about his hobby, but he never expected the feedback he received.
"The guys saw the Web site and really liked it," he said. "They made it their official Web site."
Palmer was honored when asked to run the site for such a distinguished group.
"This is their site," he said. "I do what they want me to do. I'm just honored they chose my Web site to make their own."
Palmer will visit New York and his firefighter friends for the fourth time as he attends their annual Christmas party celebration.
He will leave Saturday morning, attending the party Saturday evening and will return to the firehouse Sunday to take pictures of a new memorial, honoring the six who died in the line of duty.
Ten House Firefighter Anthony M. Henry said he is looking forward to seeing his Hoosier friend.
"Jerry is great," he said. "The Web site is very respectful-very tastefully done. He did it as a tribute to us. I think it's wonderful that he can come out and celebrate with us-it's great that we can do this for him.
"We really appreciate the job that he does. We make sure to ask everybody who comes to visit the house, 'Hey, did you see our Web site?'"
Originally published December 9, 2005