California Fires
New York Says Thank You volunteers clean up after California Fires
Ten FDNY firefighters including Jimmy Sands, Engine 10 and Mark Medina, Ladder 10, flew to San Diego to spend the weekend in San Diego County helping to clean up the Dulzura home of Earl Carter, a carpenter who volunteered to help rebuild 20 homes after the 2003 Cedar Fire, and Dan Lachenbruch, the La Mesa firefighter whose Rancho Bernardo home burned to the ground while he was working to save other people's homes from the recent Harris Fire.
From Jeff of The New York Says Thank You Foundation:
"I wanted to thank you for your tremendous and immediate outpouring of support that enabled us to travel to San Diego this past weekend to help two special families start the long process of rebuilding following last week's devastating wildfires. Over 150 local volunteers turned out to work alongside our New York Says Thank You/FDNY firefighters and the turnout truly overwhelmed the homeowners Earl & Celeste Carter and Dan Lachenbruch and his family with so much love and support.
In the ashes of their home, we found Celeste Carter's diamond ring. But perhaps the most touching moment of all came when Bill and Lorena Strong and their two sons, Daniel and David, planted a tree from THEIR yard in the backyard of Dan Lachenbruch in Rancho Bernardo.
The Strong family of Harbison Canyon was the very first home The New York Says Thank you Foundation built on September 11, 2004. Since then, the Strong family has been volunteering with us cross-country and here they were welcoming the Lachenbruch's into our extended New York Says Thank You "family" by literally REPLANTING HOPE in the Lachenbruch family's backyard. Survivors helping survivors.
It's been a four year journey to bring the Strong and Lachenbruch families together and that journey – which YOU make possible -- is still continuing and getting bigger. God bless, Jeff Parness The New York Says Thank You Foundation"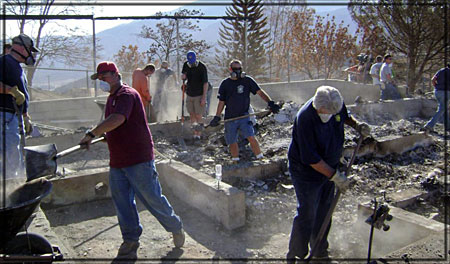 THE NEW YORK SAYS THANK YOU FOUNDATION
The mission of The New York Says Thank You Foundation is to commemorate the kindness extended to New Yorkers by Americans from all across the country in the days, weeks, and months following 9/11, by sending volunteers from New York City each year on the 9/11 Anniversary to help rebuild communities around the United States affected by natural or man-made disasters.
The New York Says Thank You Foundation is registered as a charitable tax-exempt organization under section 501(c)(3) of the Internal Revenue Code and is incorporated under section 402 of the New York State Not-For-Profit Corporation Law. For more information, please see: