A Gift from Holland & Knight:
June 10, 2006 [New York, NY] –Lawyers and staff from the national law firm Holland & Knight LLP joined former New York City Mayor Rudolph W. Giuliani, U.S. Representative Jerrold Nadler and Fire Commissioner Nicholas Scoppetta, in a ceremony today unveiling an historic 9-11 memorial to the New York City Fire Department. The memorial, dedicated to the 343 members of the NYC Fire Department as well as a partner at Holland & Knight who died on that tragic day, is located at Engine 10 Ladder 10, directly across from Ground Zero.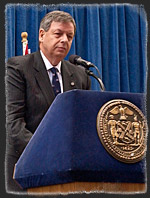 Brian D. Starer
Holland & Knight
Hundreds of surviving family members of New York City Firefighters who died on September 11th attended the unveiling ceremony.
On September 11, 2001, when two hijacked airplanes were deliberately flown into the Twin Towers of the World Trade Center, Holland & Knight's New York partner, volunteer firefighter and EMT Glenn J. Winuk, ran out of his office at 195 Broadway, across the street from the World Trade Center site, and toward the burning buildings to help. Like so many others, Glenn died that morning, in an act that could only be described as truly heroic.
Inspired by those events, lawyers and staff throughout Holland & Knight's offices nationwide began a grassroots campaign to build a tribute dedicated to Glenn and the 343 members of the New York City Fire Department who perished. The campaign, which was coordinated through the Holland & Knight Charitable Foundation, culminates with the completion of the extraordinary memorial wall – a bas-relief sculpture, 56 feet long and six feet high, made of solid bronze, depicting FDNY members responding to the scene on September 11th.
"Glenn epitomized the immeasurable bravery and selflessness of every member of the FDNY who died that day," said Howell W. Melton, Jr., Managing Partner of Holland & Knight. "While we can not begin to understand the loss that Glenn's family and the family members of the NYC Fire Department endured that day, we hope that they accept our gift of this memorial in their honor. I am proud and humbled by the involvement of so many of our lawyers, staff, clients and friends of the firm who made this tribute possible."
The memorial wall – believed to be the largest bas-relief sculpture in North America – has an inscription on its upper portion that reads, "Dedicated to those who fell and to those who carry on – May we never forget."
"We hope that this serves as a reminder to everyone who passes by that these men and women were true heroes that we will never forget," said Brian D. Starer, Chair of Holland & Knight's 9-11 Memorial Wall Committee and Vice President of the Holland & Knight Charitable Foundation. "This memorial represents our immense gratitude to Glenn and every member of the NYC Fire Department who made the ultimate sacrifice, and honors all those who died."
A listing of active Fire Department members lost on 9-11 is displayed on the sculpture by rank (in alphabetical order) and includes each member's company number. A timeline of major milestone events pertaining to attacks and the Department's rescue and recovery effort is also incorporated into the base of the rendering.
"We are deeply grateful to Holland & Knight for this extraordinary gift that will be on permanent display for all to see and remember," said Commissioner Scoppetta. "We are profoundly touched that so many of the firm's lawyers and staff chose this very personal way to recognize not only their colleague, Glenn Winuk, and the brave members of this Department who died on 9-11, but also those who continue to protect the citizens of New York City every day. We are honored."
The 9-11 memorial was designed by the Rambusch Company, a New Jersey firm of artisans which opened in 1898 and specializes in ecumenical metal work, stained glass and lighting. Scenes depicted in the sculpture will honor FDNY members who responded to the World Trade Center site and those who continued to work on-site until recovery operations were completed.
Saturday, June 10th was selected as the date of the ceremony because it is the fourth anniversary of the conclusion of Fire Department recovery operations at Ground Zero.
About Holland & Knight LLP and Holland & Knight Charitable Foundation, Inc.
Holland & Knight LLP is a global law firm with more than 1,150 lawyers in 17 U.S. offices. Other offices around the world are located in Mexico City, Tokyo and Beijing, with representative offices in Caracas, Helsinki and Tel Aviv. Holland & Knight is among the world's 15 largest firms, providing representation in litigation, business, real estate and governmental law. Our interdisciplinary practice groups and industry-based teams ensure clients have access to attorneys with the best expertise, regardless of location.
The Holland & Knight Charitable Foundation, Inc. was created in 1996 to take over the management and coordination of the law firm's ever-increasing charitable contributions and activities. The Foundation is funded through contributions from the firm, its lawyers, and staff and external contributions and grants. The Foundation, a Section 501(c)(3) public charity, is run by partners of the law firm and a professional staff.
From: Holland & Knight LLP 195 Broadway New York, NY